Live so that when your children think of fairness, caring, and integrity, they think of you. ~H. Jackson Brown, Jr.
We have two exciting events beginning this week that have taken hours of planning and multiple layers of input to put into action.  The first of the two starts on Monday; our first Benton (in-house) ACT Academy.  We have changed the format from the past years to see if we can improve our results.  This year, our academy will operate on four consecutive half days instead of four consecutive Thursdays.  Sixteen students have requested entrance to the academy and will be studying English/Reading on Monday during 1st and 2nd blocks as well as Wednesday during 3rd an 4th blocks.  Math/Science will study on Tuesday during the first two blocks and Thursday during the afternoon blocks.  Academy participants' names will be called on the intercom first thing Monday and a list will be emailed following the roll call.  Results from the October SJSD Academy show our Academy students performed almost two full composite points higher than the rest of our students who tested.  It is important to get as many students into our academy as possible to make them all maximize their potential.  We will host an academy in February and April the week before the ACT is given, so any juniors or seniors who have no failing grades and have not missed more than 10 days of school.  Our school's goal is to improve our ACT composite score by half to one full point. Senior CAMP teachers should continue to encourage those college bound seniors to prepare prior for testing.  This would be a banner for our senior class and sponsors to wear proudly if we are able to accomplish it. 
The second exciting event this week is the start of the "12 Days of Christmas" Countdown.  I will send out the celebration days on Monday straight to your computers, so look for it on your desktops.  In the text, Leverage Leadership, the author states that in turnaround schools, seven levers are utilized to drive and sustain consistent, transformational, and replicable growth.  Of the seven levers, two are crucial – data-driven instruction and student culture.  As you can see, Benton has a laser focus on both.  Our holiday decoration contest and 12 days countdown are two ways we can encourage our students to celebrate with us.  Make sure you encourage and participate so we can model good habits of work and play with our students.
With our narrowed approach to data teams, we have been able to shore up many instructional practices that we know will lead to success.  We no longer have the luxury to live in the world of what the students SHOULD HAVE learned, but we are now ensuring what they HAVE learned – and they can prove it.  The second lever of student culture is just as critical as data driven instruction.  It is exciting to see individual teachers implement practices with the intent to encourage student engagement, participation and devotion to Benton High School.  In addition to our staff sending the continual message that nothing is as important or as engaging as learning, we know that students must see this practice repeated – using every minute of every day to build good habits.  Each staff member is a role model for good habits.  I realized as I was observing this week watching teachers in classrooms and coaches during practices and games that one HUGE example of a habit good teachers and coaches employ is what I am now referring to as "constantly chirping" in students' ears.  Great teachers – whether in the classroom or coaching — don't just teach once and stop, they continue to "chirp" at their students and players to reinforce or correct behaviors as well as set expectations and send praises. I often laugh out loud at how similar and paralleled good teaching and good coaching practices really are.  It's just really important that we practice for the game we will actually play.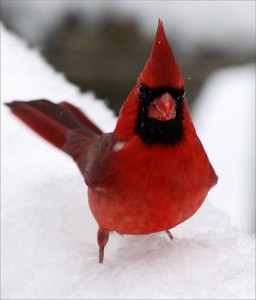 Week 16 – A Look Ahead
We are meeting with data teams to note areas to improve and determine how we can pinpoint exactly what we need to look for to get better and get the results we know can be achieved. EOC classes – notify your administrator if when you meet.  
Monday – ACT Academy (AM)
Tuesday – ACT Academy (AM)
Wednesday –  BLT Meeting at 0700 in Room 106; ASVAB Test Feedback during CAMP (see list); ACT Academy (PM)
Thursday – Southside Rotary Luncheon at 11:00 in Library (Library closed from 1030-130); ACT Academy (PM)
~Excellence is a journey not a destination.~
Images are available in CC on Flickr:  "Cardinal Watching Me" by Mark…L; "Wing and a Prayer" by Creativity+ Timothy K Hamilton; "Mr Cardinal" by Dawn Huczek.