We do not do well except when we know where the best is and when we are assured that we have touched it and hold its power within us. ~Joseph Joubert
 Week 10 – A Week in Review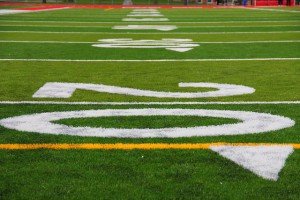 My football friends tell me that when a team is in the Red Zone that means they are in the last 20 yards of a scoring drive toward the goal line.  The pressure is high.  Scoring is expected.  Defense is intense.  Statistics are kept.  Teams practice red zone plays – both offensive and defensive.  These plays are critical to success, and it doesn't matter what side of the ball you are playing. The metaphorical applications to Benton being in the red zone this year are immense.
We ended the first quarter of the 2011-2012 school year last week.  It was an intense week that included conversations about statistics, goals, and our overall plan of action to score well.  From job-embedded professional development for our laptop pilot to data teams, it feels like we are living life in the red zone.  We are.  And like all good strategies, some things work well the first time, and some we have to take back to the drawing board to adjust our plan of action. Your department chairs did a great job talking through data teams.  Each week we get smarter and smarter as we adjust our plans to meet power standards.  Our plan for report cards in CAMP – setting goals and writing letters – worked well overall.  I heard from several students how they realized they needed to think about what to do next to get the grades they wanted.  I was impressed with their honest reflection and desire to improve.
Week 11 – A Look Ahead
It's Parent/Teacher Conference week.  Again, we find ourselves in the red zone of communication.  The importance of your connection with our parents about students' grades cannot be overstated.  It's really, really important.  During the conference, you should ask parents if they have their Parent Portal log-in.  Ask if they need information about how to contact any teachers their student may have.  Be sure to remind the parents of who their child's counselor is if they need to reach them for any reason.  Tell them how much you care about the success of their child.  Just those four statements alone go a long way in comforting parents that you know their child and you care.  Make sure you document your contact.  Mr. McCoy will be sending out the data collection form immediately.  This information must be compiled and turned in to the district office so you must turn in the data form to the Assistant Principals' office before you leave on Friday (the 3 hour early out in compensation for your time spent with parent conferences).
This week also brings our first full department data team session with administration.  The expectation for the meeting is to present your Power Standards, the year calendar for addressing your established Power Standards, and the data used to reach the decision about your Power Standards choices.  Additionally, you should bring a copy of your common assessment, the data from the common assessment, any lesson plans used to teach lessons aligned to the addressed Power Standard, and if you have given the post-test common assessment – bring that test and data.  This department data team session will be as intense as any play in the red zone.  There is a lot riding on this drive.  I will send out the meeting dates and times to department chairs on email.
And if there wasn't enough red zone talk for you, Thursday is a big day for Benton High School actual football.  It's our final season game, and it's against Lafayette.  We will have a pep assembly on Thursday, so make sure you include that in your plans.  And know that this is a time when we teach our students what it means to believe.
Believe we can succeed when it feels impossible.  Believe in the kids when they may not believe in themselves.  Believe that our journey of excellence DOES have a pay-off, and all the hard work is worth it when you can reach that goal.  Know that sometimes when you believe, it is the small difference that makes ALL the difference.  I believe in the Power of RED.
And with that – it's a perfect week for us.  It's RED RIBBON WEEK.  This week we celebrate keeping our kids drug-free for life.  Join in teaching our kids the advantages of living such a life.  Check your email sent last week from our counseling department for the events they have planned for this week.  Sometimes in small comments we make to our students, we influence their thinking in big ways.  This is a week to make that difference with them.
Two more quick notes on making a difference – First, we are in our final push to sign up for UNITED WAY.  Please see Tracy Allen if you have not yet completed your donation form. If you are interested in wearing jeans on Thursday and Friday, you can do so for a small donation to United Way.  See Tracy to make your donation and don't forget to wear a Benton shirt with your jeans.  Please join us all in making a UNITED fashion statement.
Secondly, Saturday is the district PACT Walk-A-Thon.
This event is important.  I know Dr. Smith has asked for your help, PACT has
asked, and on behalf of Benton, we have asked.  It's only a short amount of time.  You would need to be at Central at 8:00 a.m.  Bring your friends and family.  Bring your teams or student groups.  And more than anything…wear RED.
Have a great week in the RED ZONE. Because we are… Southside!  And they all shouted in unison, "Go BIG RED!"
 Excellence is a journey not a destination.
Football Field available with some rights reserved by juggernautco (Daniel X. O'Neil) http://www.derivativeworks.com/  on Flickr; Bentley by me; Southside Schools by PJ; Red Ribbon by Prevention Partners Together @ http://www.preventionpartners.com/shop/view_details.cfm?item=drr109.