Unless someone like you cares a whole awful lot, nothing is going to get better. It's not. ~Theodor Seuss Geisel
The world is a better place today because of Benton High School.  If only I could share all the stories I heard or know of in this week alone about teachers helping students, students taking care of teachers, teachers being there for each other, and students standing up for what is right.  The stories are touching, humorous and providential. And the acts of caring and kindness made such a big difference in the lives of others.                      They are empowering.
Our students tell me that the Benton teachers and staff empower them to be successful.  I was touched when I heard that.  I am humbled when I see it in action.  As we continue along our journey to improve, I can see our CARdinal Excellence growing. Our passion is growing. Our results are gaining ground.  Your investment in our students is paying off in a big way.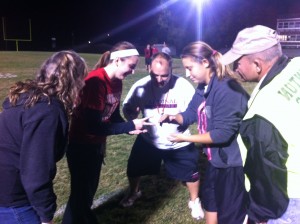 I loved hearing a teacher defend a student because of how he connected with her in life as a child. I love seeing a student give up her personal time day after day to help teachers come together. I love walking into play practice and see students and teachers support each other when things get tough.  I loved hearing an Assistant Principal and Counselor share how they will commitment to making a student on the cusp of dropping out of school decide to stay because they CARE to make sure she does. I love seeing entire departments follow through on their CARE promise and join together at Homecoming for dinner and the game.  I love seeing teachers pull together to take CARE of each other when our lives at home are difficult.  Oh, I understand our world is not perfect.  October is the time in the school year when tempers begin to flare, pressure builds exponentially, and the students and staff alike start to think success is impossible, but it is possible because we CARE about each other and with that we will press through the tougher times and grow closer together. We will be successful. Yes, the world is a better place today because of Benton High School.
Week 9 – A Look Ahead
This week we will continue in our administrative walkthroughs to look for and provide feedback on teacher behavior.  What are you doing when we see you teaching?  Where are in the classroom? How are you interacting with your students?  This will be exciting feedback to share with you.
This is a big week for data teams.  On Tuesday, our UMKC Consultants will work with us each class period in the library to analyze our work and listen to your feedback.  I am excited for you to share all your work with them.  I anticipate a great session for each of you where you will leave feeling strong in your work and ready to tackle the next round of data collection.
Wednesday, we will have JEPD each hour.  I realize this seems like a quick turn about, but we will review your text complexity work and discuss parent/teacher conference protocols.  The sophomores will be out of the building for a large part of the day at My Success Event.  Also, a few students will be testing the PSAT.  Look for that list to be emailed.  Wednesday also marks the end of the first quarter.  Make sure you enter all your grades as quickly as possible.
Friday we will be on pep assembly schedule for our last home football game.  The students are excited to have everyone's support in school spirit.  I am very proud of how well our Student Council has been leading the way.  I hope you will share your support with them as well.
~Excellence is a journey not a destination.~
Photos of "Spirit Stick," PowderPuff Coin Flip,"  by JetWestfall and "Counseling and Math Departments" by Jenny Moore.